VRstudios launches two-player VR game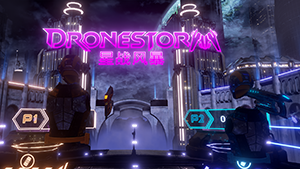 Players aim to stay alive in a city overrun with attacking, mechanised drones in this high-energy, arcade shooter.
The company's chief marketing officer, Ron Davis, said: "This is the fifth fully immersive, totally wireless, full-motion game that we have released with several more coming in the next few months. The games are all optimised for our high-volume, out-of-home VR presentation and management platform for entertainment.
"It is a turnkey solution for LBE venues that provides a totally wireless (no backpacks or cables), full-roaming, multiplayer experience in small-to-large spaces and encourages a lot of physical movement. All with no physical disorientation or discomfort often experienced with other VR offerings."
The company has placed systems in 12 countries, with the latest custom attraction launched at Cedar Fair's Knott's Berry Farm Amusement Park on April 1, this year. The company released a custom title, VR Showdown in Ghost Town, which has been "extremely popular".
Source: http://intergameonline.com/coin-op/news/18282/vrstudios-launches-two-player-vr-game